Gather together all the silverware and utensils you want to include in your holder. This particular holder has paring knives with covers, which is important. You do not want knives slicing into the fabric! If you cannot score such a find, you can make sheaths for your knives using cardboard and tape.
Use newspaper to make a pattern. Map out the size needed for each pocket. Your holder will have three sections, an upper flap, a lower flap (which will become the pockets) and a center section. This pattern shows each set of knives, spoons, forks, and serving spoons set up to go in their own pocket. As you design your pattern, remember to add 1/2 inch for sewing a seam along the top, left, and bottom edges. Add an additional 1/2 inch for each pocket at far left and far right for sewing the pocket flap into place. The right edge of pattern is to be placed on fold of fabric.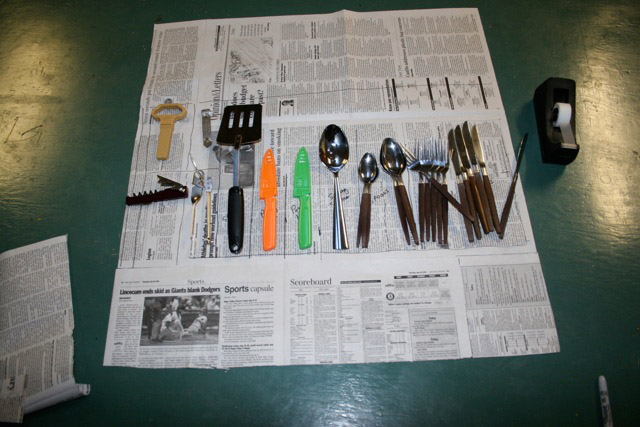 Tape sections of newspaper, as needed, to top and bottom to make pattern large enough for the lower pockets flap and the upper flap (upper flap folds over the top of all pieces).


With silverware and utensils in place, check sizing by folding flaps over all pieces.
Double over fabric, folding to fit size of pattern. Pin finished pattern to fabric, placing right edge along fold. Cut out.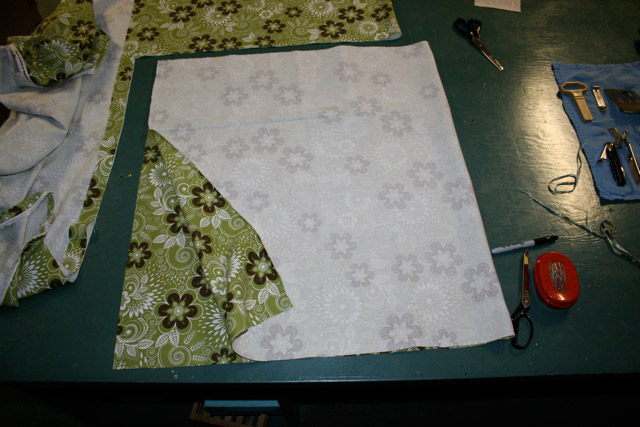 With right sides of fabric together, pin edges. Mark a 6 inch section along seam to leave open for turning right side out. Sew 1/2 inch seam on all edges except along the 6 inch opening.
 Turn in seam allowance on opening and press. Press remaining edges.


Top stitch 1/4 inch from edge (including the opening) around entire outside of holder.


Place tallest utensil in center section for positioning. Fold lower pockets flap up and upper flap down to determine placement of Velcro.
Pin Velcro into place. Double check folds and placement. Make adjustments as needed. Sew Velcro in place.
Refer to newspaper pattern to mark where pocket sections will be. A pencil works well if fabric is light enough for pencil to show. Use a straight edge (a triangle works best if you have one) to draw lines nice and straight.
If your fabric is too dark for pencil lines, use tailor tacks.
Make labels (optional) to sew onto the pockets for the serving spoons, spoons, forks, and knives. The ones shown here are made from curtain liner fabric, which does not fray. An indelible pen was used to write the names. Labels can be created for other pockets, if desired.
Sew pocket flap into place making a 1/2 inch seam along left and right edges.
Sew over pocket lines as drawn with the pencil. When sewing the lines for the pockets, sew from bottom to top to minimize fabric buckling.


Place all silverware and utensils in pockets in best position for retrieval. Since some items will be shorter than others, mark a line with pencil (or tailor tacks) at lower part of pocket wherever pieces do not reach all the way to the bottom. (Arrows show marked lines.)


Sew across the lower portion of pockets on lines as marked.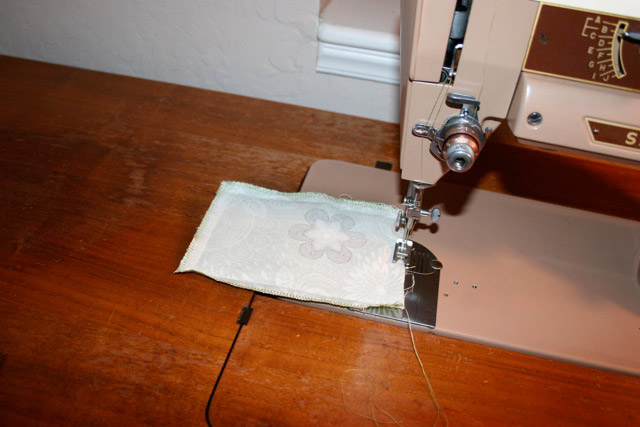 In the design of this silverware holder, the bottle opener and the wine bottle opener are placed in pockets above the can opener and the three-in-one utensil. To add extra pockets, measure the space needed for the pockets. Cut a piece of fabric adding a half inch all around so the edges can be folded over for sewing down. Use a zig zag stitch to finish the edges.


Fold over 1/2 inch on all edges, press and sew in place.
Pin fabric square into position and sew close to edges on three sides. Leave the top open. Insert utensils to mark width of each pocket and how deep each pocket needs to be. Mark with pencil (or tailor tacks).
Sew on top of lines as marked.
Silverware holder with everything in place. Next step: The ties!


Make 2 ties by cutting 2 strips of fabric: 2 -1/2 inches wide by 36 inches long. Fold in half lengthwise, sew one end and the long edges of each tie using a 1/2 inch seam. Trim seams. Cut corners.


Using a knitting needle, turn ties right side out. Fold in seam allowance on open end of each tie and press. Press both ties entirely. Top stitch 1/8 inch from edges on all sides sewing opened ends together same as previously done for the 6 inch opening for the holder.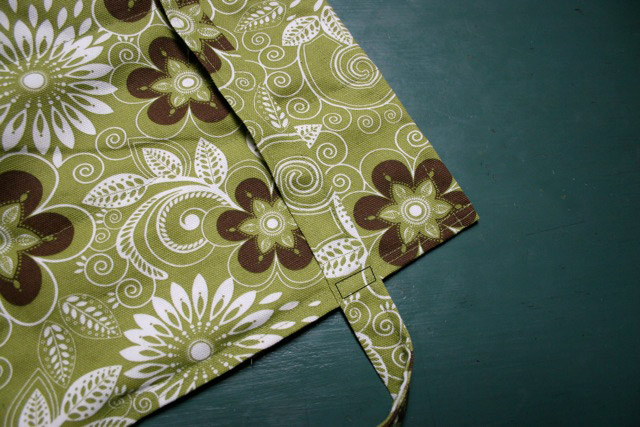 Fold each completed tie in half. Measure about 3 inches from bottom of silverware holder and about 3 inches down from top fold to position each tie. Place on outside (backside) of holder and sew in place by stitching a rectangle shape.


Silverware holder completed and almost ready to go.


Fold top flap down using Velcro to hold in place. Roll from left side.


Roll to end. Tie. Now you are ready to go camping!